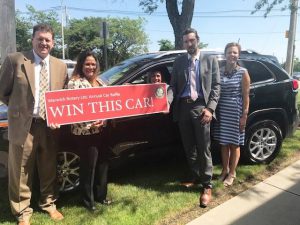 You are invited to participate in the
Warwick Rotary Club's annual Car Raffle!
Purchase your ticket ($100) today at Greenwood Credit Union in Warwick, The Warwick Beacon, Global Excellence, The Central Rhode Island Chamber of Commerce or email Warwick.Rotary@yahoo.com. Odds are 1 in 600 to win this beautiful Jeep – and that's if all our tickets are sold. It could be even better odds!
Drawing will take place at The Radisson Hotel, 2081 Post Road, Warwick, RI on October 18, 2018.
Rules: Raffle is open to citizens or permanent residents of the United States, 18 years of age or older. Rotarians are eligible to participate. The final grand prize winner will have the option of choosing either a car, or a $15,000 cash prize. If only 300 tickets are sold then there will be a cash prize only of $10,000. If less then 150 tickets are sold then the drawing will be canceled and all tickets purchased will be refunded. The car is a 2018 Jeep Compass Latitude 4×4 with a Manufacturer's Suggested Retail Price (MSRP) of $28,285. The vehicle shown by WARWICK ROTARY, LTD. is for promotional purposes only. A vehicle similar to the display will be available to the grand prize winner. The dealer is not responsible for any cash substitution. The winner of the vehicle will be responsible for the purchase price of the vehicle in excess of $28,285. Arrangements for delivery of the vehicle must be made within (30) days of notification of winning the grand prize. The winner will be responsible for the payment of sales tax, dealer preparation fees, and any other costs/fees associated with the purchase of a new vehicle. The value of the vehicle will be treated as ordinary income to the winner for federal and state income tax purposes, and the winner may be required to pre-pay a portion of the tax liability prior to receiving the prize. The Internal Revenue Service takes the position that no portion of the ticket will qualify as a charitable contribution for federal income tax purposes. Grand prize winner will be issued an Internal Revenue Service tax form W-2G and will be required to fill out an Internal Revenue Service tax form W-9 prior to receiving the grand prize.
Raffle Disclosures: The maximum number of tickets to be sold will be 600. The odds of winning are 1 in 600. Winner need not be present at the drawing and will be notified by contact information provided at the time of the ticket purchase. Required taxes will b withheld at the time of payment of the prize. WARWICK ROTARY, LTD. (PO Box 6803, Warwick, RI, 02886) and the dealership, their members, officers, directors, agents and representatives, and their parent organizations, affiliates, subsidiaries, and advertising, promotion and legal advisers are not responsible for and shall not be liable for: (i) late, lost, delayed, damaged, misdirected, incomplete, illegible, or unintelligible entries; (ii) failed, returned, or misdirected notifications based on inaccurate information provided by entrants or winner; (iii) telephone, electronic, hardware or software program, network, internet or computer malfunctions, failures, or difficulties resulting in participation in this raffle or otherwise; (iv) any condition caused by events beyond the control of the WARWICK ROTARY, LTD. that may cause the raffle to be disrupted or corrupted; (v) any injuries, losses or damages of any kind caused by a prize or resulting from acceptance, possession, or use of a prize, or from participation in the raffle. The WARWICK ROTARY, LTD. reserves the right at its sole discretion to cancel, terminate, modify, or suspend the raffle. APPROVALS: Rhode Island State Police Charitable Gaming Unit. City of Warwick License No. 277